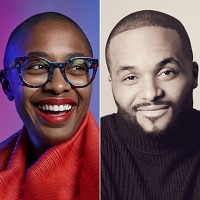 Friends of Chamber Music and AVPA Presents
The Marvelous Cecile McLorin Salvant: Unique Jazz Voice and Artistry
Description
"You had waited a long time for such a voice." –Deutschlandfunk Kultur on Cecile McLorin Salvant
Winner of numerous awards including three GRAMMY awards over the last decade and most recently, the Macarthur Genius Grant in 2020 and Jazz Journalists Association's Jazz Award for Female Vocalist of the Year in 2022, CÉCILE MCLORIN SALVANT is a composer, singer, and visual artist described by the late Jessye Norman as a "unique voice supported by an intelligence and full-fledged musicality which light up every note she sings."
The American with French-Haitian roots, Salvant sensationally skyrocketed onto the jazz scene after receiving the first place in the Thelonious Monk International Jazz Vocal Competition in 2010 at the age of 21 and quickly earned her place in the circle of jazz celebrities since then. Her vocal style has been strongly influenced by Sarah Vaughan, Billie Holiday, and Bessie Smith.
Salvant has developed a passion for storytelling and finding the connections between vaudeville, blues, theater, jazz, Baroque and folklore, composing music and lyrics which she also sings in French, her native language, as well as in Spanish. Salvant is an eclectic curator, unearthing rarely recorded, forgotten songs with strong narratives, interesting power dynamics, unexpected twists, and humor. She enjoys popularity in Europe and in the United States, performing in clubs, concert halls and festivals.
Salvant makes large-scale textile drawings. Her visual art can now be found at Picture Room in Brooklyn, NY. Some of Salvant's artworks will be electronically displayed at the concert.
Salvant will be joined on stage by Sullivan Fortner on piano.
Wheelchair spaces are in Row A in the front and Row P in the back
Venue Location
 
Rudder Theatre
401 Joe Routt Blvd
College Station US-TX
US