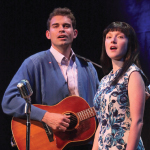 MSC OPAS Presents
Lonesome Traveler: The Concert
About this event
Come and celebrate the story of an ever-changing America with Lonesome Traveler. This concert version of the acclaimed 2015 Off-Broadway musical tells the story of American Music from Woody Guthrie to Bob Dylan, from Joni Mitchell to James Taylor, from Pete Seeger to Harry Chapin. An inspiring evening of great music, the concert stars charismatic singers, muliti-instrumentalists, mulitmedia projections, plus lots of fun sing-a-longs. It's perfect for the entire family!

Wheelchair Seating
Patrons may purchase these seats online, in person or over the phone.
In Rudder Theatre, wheelchair seating and companion seating is located in Row A in the front and Row P in the back.

Venue Location
 
Rudder Theatre
Rudder Tower, 401 Joe Routt Blvd
College Station TX
USA