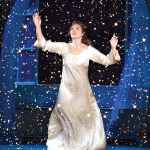 MSC OPAS Presents
Finding Neverland
About this event
This breathtaking smash, based on the critically-acclaimed Academy Award winning film, Finding Neverland tells the incredible story behind one of the world's most beloved characters: Peter Pan. Playwright J.M. Barrie struggles to find inspiration until he meets four young brothers and their beautiful widowed mother. Spellbound by the boys' enchanting make-believe adventures, he sets out to write a play that will astound London theatergoers. With a little bit of pixie dust and a lot of faith, Barrie leaves his old world behind for Neverland. The magic of Barrie's classic tale springs spectacularly to life in this heartwarming theatrical event.

Wheelchair Accessibility
Patrons may purchase these seats online, in person or over the phone. In Rudder Auditorium, the wheelchair spaces and companion seats are located in Row H along the side aisle and in the Director's Box on the second floor.

Venue Location
 
Rudder Auditorium
401 Joe Routt Boulevard
College Station TX
USA